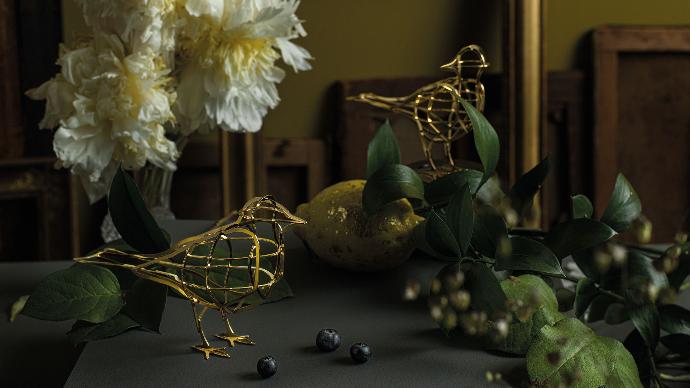 Petites Présences

The Petites Présences collection pays tribute to small wild presences, to their furtive encounter, to the beauty of the untamed.
Their design principle is to suggest the presence through its contours.Each posture, with its aerial drawing, intertwines with itself and dialogues with the other.
 The duo then tells us a spring poetry where a romance is invented.De l'Aube and à l'Aube bear the name of a repeated promise, carried by the tip of the day.
My favourite creation is: À l'Aube because my De l'Aube is very lonely and these two little golden wonders, so precious and light, cannot live their romance without each other…


Séverine - Gondreville
My favourite creation is "De l'Aube" because, living in the city, the discreet presence of its little born singers is a real breath of fresh air. To observe them and to feel oneself being observed by these little fierce onlookers, is a furtive and peaceful pleasure, "out of time" which we miss so much. 


Isabelle - metz
Specifications
Model

De l'Aube

or

A l'Aube

Material

Gold galvanized metal

Weight

34 grammes

Dimension

H.11 x L.18 x l.1,6cm

Finish

Golden

Country of manufacture

Made in Italy, assembled and packaged in France

Type

Decorative bird