Il Divino light
Illuminated Picture - Printed Fabric / Metal Frame - Made in Portugal
---
Your shipping costs will be calculated upon validation of the cart. They are generally between 4.9€ and 6.9€ for France.
---
material: Textile imprimé | structure métal
weight: 2,4 kgs
use: indoor
dimension: Ø75 cm
Size: Il Divino
little extra: livré monté

---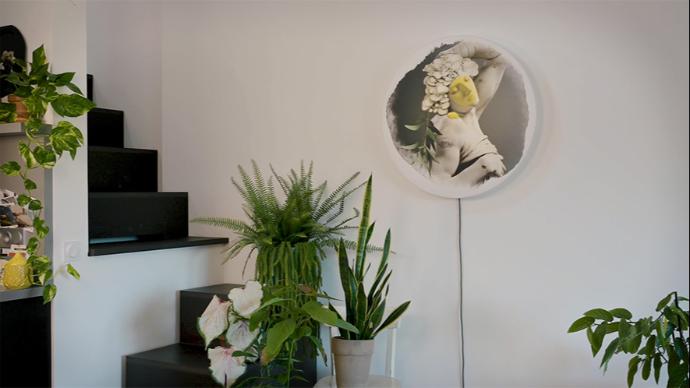 Il Divino 
Les Sentiments is a collection that brings together marble and light, the immutable and the ephemeral. 
The poetry of the living invites itself to great timeless figures and whispers in its ear all its fragility. 
Il Divino opens this luminous collection where everything oscillates between strength and transience in a delicate vertigo. This classical-inspired scene is a play on gender and shines through a poetic halo created by Rachel Convers.

Light, sculpture & patrimony 
Mariage entre objet moderne et oeuvre inspirée de la Haute Renaissance, cette applique murale aux allures de Tondo Doni illumine l'espace de sa lumière douce.

Inspirés par la célèbre sculpture l'Esclave mourant de Michel-Ange, les designers Rachel et Benoît Convers soulignent la délicatesse du marbre de légères touches végétales.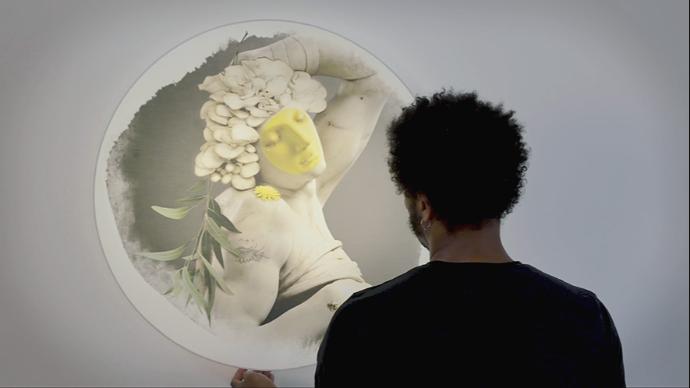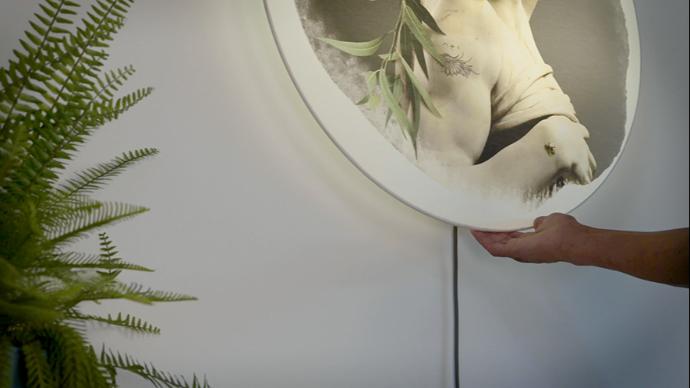 Finition
The paint is printed on a fabric allowing a uniform diffusion of light, while the disc on which it is applied is made of Dibond, a stable and rigid aluminum.
Tantôt oeuvre ou lampe murale, l'éclairage à LED réglable en intensité souligne la délicatesse des traits du personnage Il Divino.