The website www.ibride-design.com is published by the company ibride SARL limited liability company with a capital of €100,000, whose registered office is located in Fontain (25660), 17 Rue du Stade, registered under the unique identification number 407 706 803 R.C.S. BESANCON ("ibride").
Phone number : 03 81 81 58 47
E-mail address : info@ibride.fr
The director of publication is : Marc Pompanon – marc@ibride.fr
ibride is the author of the sales offer for the products presented on its website www.ibride-design.com.

The purpose of this section is to provide ibride customers with full information on the use of the collection of personal data that is carried out by ibride.
The protection of customers' personal data is a concept dear to Ibride's heart and we are committed to ensuring the highest level of protection. We only use your personal information to improve the site and allow you to navigate better.
As part of its activities, ibride provides its customers with an e-commerce service from the www.ibride-design.com website.
By browsing our site you consent to the collection of personal data in accordance with this policy.
1. WHO COLLECTS PERSONAL DATA?
The company that collects personal data and implements data processing is: the company ibride SARL, a limited liability company with a capital of €100,000, whose registered office is located in Fontain (25660), 17 Rue du Stade, registered under the unique identification number 407 706 803 R.C.S. BESANCON ("ibride").

2. WHAT ARE THE PURPOSES OF COLLECTING YOUR PERSONAL DATA AND WHAT ARE OUR REASONS FOR DOING SO?
When using our site, we may ask you to provide us with certain personally identifiable information that may be used to contact or identify you. Personally identifiable information may include, but is not limited to, your name ("Personal Information").
2.1. Users' privacy is protected by regulation.
According to data protection regulations, ibride is only allowed to use the personal data of its users if it has a valid legal basis. ibride must ensure that it has one or more of the following legal bases:
the performance of a contract (e.g. to process and execute an order for goods or to open and manage an ibride account), or

the fulfilment of a legal obligation (e.g. keeping invoices), or ;

when it is in the legitimate interest of ibride, or ;

When the user has given his consent.
2.2 The legal bases of ibride
The ibride company is led to collect and record personal data of its customers in order to carry out the following activities: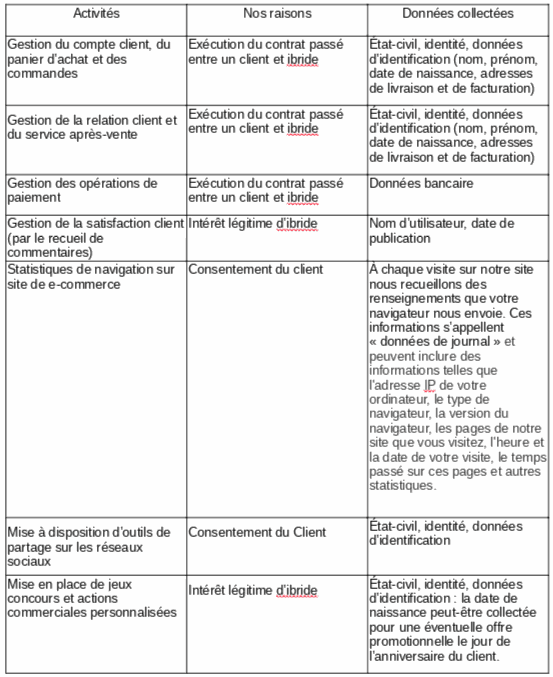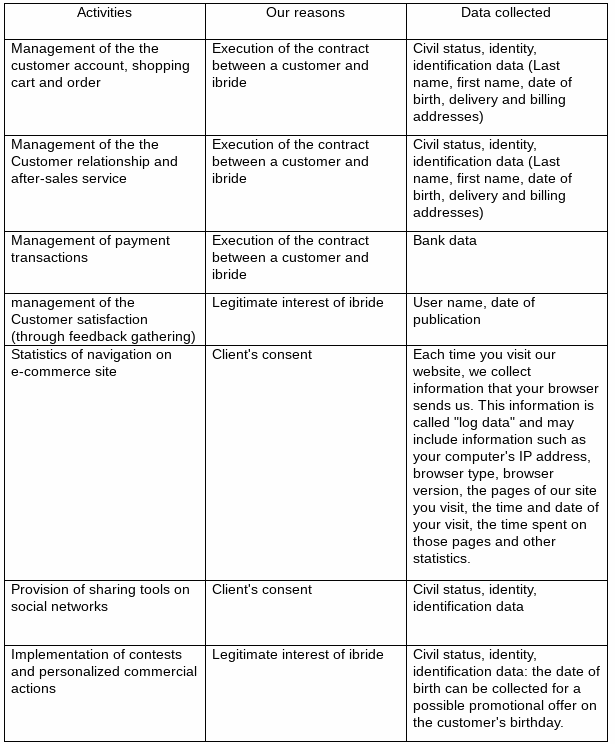 3. RECIPIENT AND TRANSMISSION OF DATA
Your personal data will not be passed on, sold or exchanged to external organisations. Ibride collects data for the purpose of facilitating the use of the website and enabling a better customer experience.
Your personal data is stored on ibride's servers and is therefore not passed on to organisations outside the EU or any other organisation/company.
4. USE OF COOKIES
Cookies are files containing a small amount of data, which may include an anonymous unique identifier. Cookies are sent to your browser from a website and stored on your computer's hard drive.
Like many sites, we use "cookies" to collect information. You can ask your browser to refuse all cookies or to indicate when a cookie is being sent. However, if you do not accept cookies, you may not be able to use certain parts of our Site.
4.1. Storage duration of cookies
Cookies are stored on the Client's hard disk for six (6) months. The Client may oppose the recording of these cookies on his computer's hard disk by configuring his browser as follows:
For Mozilla Firefox :
- choose the "tool" menu;
- click on the "Erase my tracks" icon;
- locate the "cookie" menu and select the options that suit you.
For Microsoft Internet Explorer 6.0, 7.0 et 8.0 :
- choose the "Tools" menu, then "Internet Options".
- click on the "Confidentiality" tab;
- select the desired level with the cursor.
4.2 How to set up the deposit of cookies and tags?
In accordance with Directive 2002/58/EC of 12 July 2002, the ibride company collects your prior consent to the deposit of advertising, audience measurement and sharing cookies to social networks. You can choose at any time to express and modify your wishes regarding cookies, by the means described below.

4.2.1 Setting up your navigation software
You can configure your browser software so that cookies are saved in your device or, on the contrary, that they are rejected, either systematically or according to their transmitter. You can also configure your browser software so that you are offered the option of accepting or rejecting cookies from time to time, before a cookie is likely to be stored on your device.
How do you exercise your choices, depending on the browser you are using?
For the management of cookies and your choices, the configuration of each browser is different. It is described in the help menu of your browser, which will tell you how to change your cookie preferences.
For Internet Explorer™ : https://support.microsoft.com/fr-fr/help/17442/windows-internet-explorer-delete-manage-cookies
For Safari™ : http://docs.info.apple.com/article.html?path=Safari/3.0/fr/9277.html
For Chrome™ : https://support.google.com/chrome/answer/95647?hl=fr&hlrm=en
For Firefox™ : https://support.mozilla.org/fr/kb/autoriser-bloquer-cookies-preferences-sites?redirectlocale=fr&redirectslug=Activer+et+d%C3%A9sactiver+les+cookies
For Opera™ : https://help.opera.com/en/latest/web-preferences/#cookies
As data controller, the ibride company, takes all useful precautions to preserve the security and confidentiality of the data and in particular, to prevent them from being distorted, damaged, or that unauthorised third parties have access to them. The security of your personal information is important to us, but please keep in mind that no method of transmission over the Internet or method of electronic storage is 100% secure. While we strive to use commercially acceptable means to protect your personal information, we cannot guarantee its absolute security.

5.2 Rules applicable to bank and credit card data
In order to provide you with the best security guarantees for the payment of your online purchases in our shop, ibride has chosen Ingenico ePayments. Payment security is based on merchant authentication, confidentiality and integrity of exchanges. To ensure this security, Ingenico ePayments uses proven cryptographic techniques: all sensitive information is encrypted and only Ingenico ePayments can process it and act as the link between your bank and our shop.
The customer also has the possibility to register one or more credit cards to facilitate future purchases on our website. This information is stored in a secure French data centre.
6. YOUR RIGHTS TO THE DATA
The persons whose data we process (site users, customers) have the following rights over their data: right of access, rectification, opposition, deletion, portability and limitation of processing.
You may exercise your rights relating to the management of your personal data by sending a message to marc@ibride.fr.
7. CHANGES TO THIS PRIVACY POLICY
We may update this Privacy Policy from time to time. We will notify you of any changes by posting the new privacy policy on the site. You should check this Privacy Policy periodically for any changes.

The Google Analytics features for advertisers are enabled on this site (Remarketing).
Google uses cookies to serve our ads on the Google search network, Search Network partners and the sites in its Display network.
Thanks to the DoubleClick cookie, Google adjusts the ads delivered to users according to their browsing on our site and taking into account multi-device navigation.
You can disable the use of this feature by going to the Ad Preferences Manager. https://adssettings.google.com/u/0/authenticated
To contact us:
17 rue du stade
Fontain
25660 France
If you have any questions about these conditions, please do not hesitate to contact us.
Phone : 038181515847
Email address : info@ibride.fr