Far from the codes of portraiture, Lazy Victoire embodies casualness. Seated three-quarter of the way up, she holds a cigarillo between the index and middle fingers of her right hand while touching the keys of her harpsichord. The smoke that emanates from the cigarillo supports the sense of movement that emanates from the painting and endows it with a quality of immediacy, as if this moment had been captured on the spot.

Dressed in an elaborate robe, representative of a time when one invited guests into one's room, Lazy Victoire opens the doors to her controlled intimacy. The lighting of the painting highlights the hands and face of this hostess and translates an atmosphere of late evening. Tinged with night, Lazy Victoire deconstructs the myth of perfection that traditionally inhabits master paintings.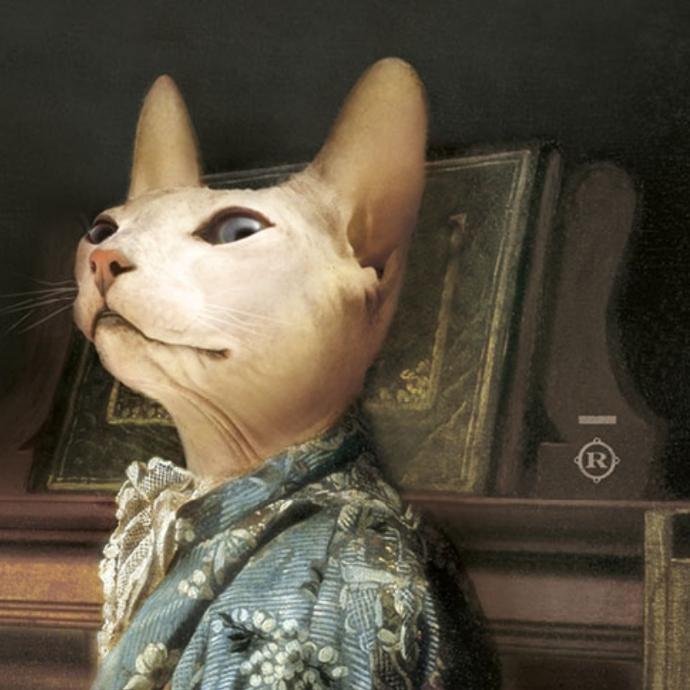 Her attitude, both demanding and relaxed, inspires independence. Looking into the distance, she is adopting a graceful head carriage, "she is looking at us as if to say that she assumes her choices and acts as she wishes" explains Rachel Convers, creator of the artpiece. The inspiration for Lazy Victoire is a painting of a presumed portrait of Mozart. 
By choosing to incorporate a female protagonist into this painting, Rachel Convers assumes the independence of women through access to the arts and plays with anachronisms to leave room for personal interpretation. The choice of the cat as an animal figure supports the aristocratic and independent character of Lazy Victoire.
The skin quality of this atypical cat, the Sphynx, and its uncanny resemblance to human skin inspired Rachel Convers to design a collection of trays in 2012 representing an aristocratic family: the Viscontis.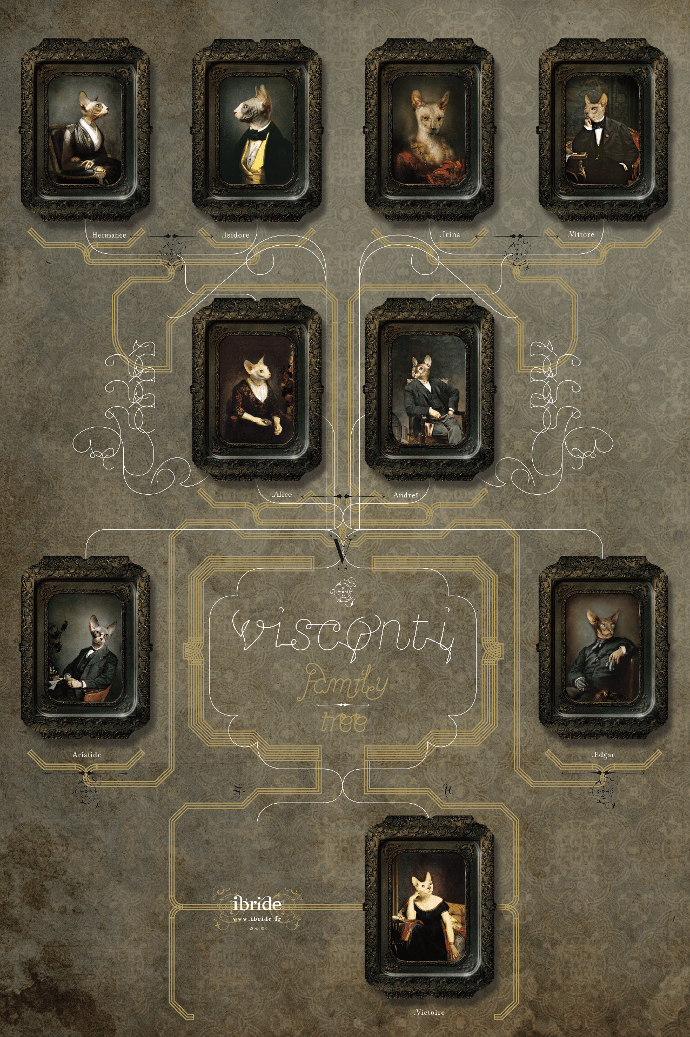 Edited by ibride, these trays represented the different members of the family and allowed to establish the family tree of the latter. By playing with the wrinkles on the singular skin of these cats, the designer was able to represent several generations, from grandparents to grandchildren.
Lazy Victoire is the rebellious version of Victoire, granddaughter of the Visconti family. She was created by Rachel Convers as part of the "Animosity" project developed for the Paris Design Week of the same year.
In 2022, Lazy Victoire joins the charismatic portraits of the Collector collection and many details, previously imperceptible, are revealed with the change of scale. As a bottle of liquor and cough syrup are found on top of her harpsichord, a glass of rum next to the keys of the harpsichord and a sheet of music on her left leg.