Le mobilier de compagnie raconté ...
---
Laissez-vous envoûter par l'histoire du mobilier de compagnie racontée sous forme de podcast.

"Our goal was to design a piece of furniture that would bring life and personality to your home. 

Benoît Convers, designer of ibride
The mobilier de compagnie, an essential component of ibride's identity, was born in 2003 when ibride wanted to enter the furniture market. 
With the desire for a piece of furniture that arouses emotion, mobile, easy to move and around the notion of nomadism, Benoît Convers draws Sultan. The intelligence of design can already be read in this first creation which triggers the confusion between the object and the animal.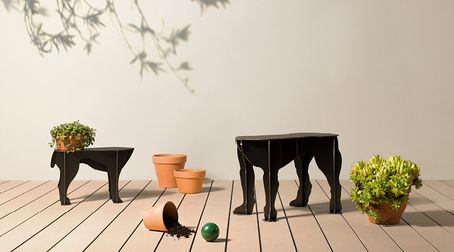 The relationship between the buyer/owner of the furniture and the latter is personal, special, as this collection awakens subjectivity. Carine Jannin talks about the behind-the-scenes design process and explains that the idea was to endow the object, in its animal form, with a soul. Emotional character is not the only thing that inhabits ibride furniture, there are other unique aspects that make up these creations. There is the coherence between the legs and the seat or the use of a single material for both the horizontal and vertical sides. These elements constitute the signature of ibride and draw its legitimacy within such a competitive market. 

The idea of slicing, of removing a part of things also accentuates the singularity of the ibride Mobilier de Compagnie company. Carine Jannin declares that it is a "slicing in the service of function, where identity is created through the animal's paws". 

En 2005, le tranchage de Diva In 2005, the slicing of Diva accompanied by a sensation of movement within the object took the collection in a different direction. With this ostrich wall console, ibride won the Prix de la Découverte at the Maison & Objet trade show in Paris. Best seller of the ibride furniture, Diva, feminine and characterful, is the fruit of the work of Benoît who imagines and creates objects in space and Rachel who, by working in two dimensions, intervenes on animal silhouettes.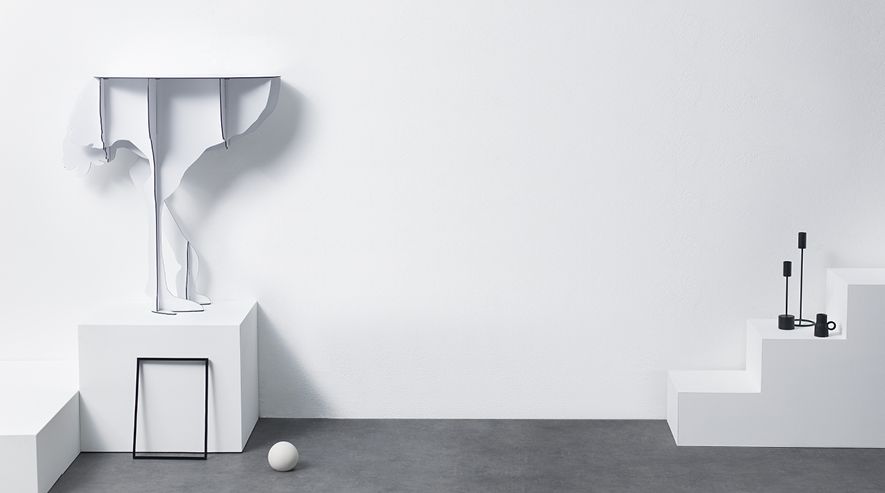 "Each project was an opportunity to go further in the technical assembly".  

Benoît Convers
In 2006, with a collection full of character and innovation, ibride makes its mark and attracts. It was during this year that the designer Bruno Renaldi approached Benoît Convers, proposing to create a monumental piece to be exhibited in his gallery during the Milan trade fair.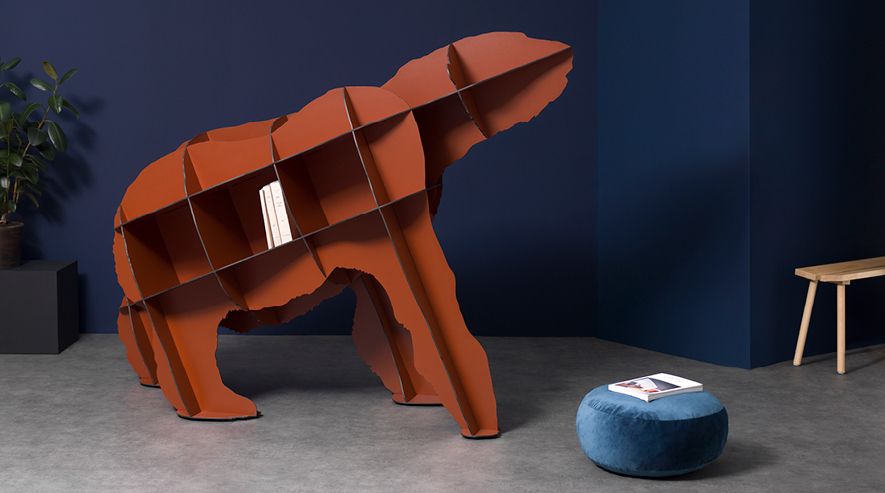 Prouesse technique et esthétique, l'ours Joe  est conçu à cette occasion, le designer Benoît Convers déclare à ce sujet « Joe c'était l'envie de faire un gros prédateur au milieu des chiens, moutons, autruches ...  ».
Realized at scale 1, Joe regains its life-size when its library function is used.
 But the project doesn't stop at the design stage: ibride, with a limited series of 50 pieces sold in six months, endows its Joe's with a story that takes them back to its own. To raise awareness of the condition of polar bears in the face of global warming, Benoît Convers created a micro-community materialized by an avant-garde website "Joethepolarbear.com". 
Through a map of the world, each of the 50 Joe's is located and the "owners" of these grandiose beasts give their news. 

"The idea was to say that they are rare like the real ones and therefore to trace them as if to take care of the livestock. " 
Benoît Convers. 

"For the past 10 years, our creations have been made through an internal network, which allows us to go further."

Carine Jannin 
La génération II du Mobilier de Compagnie adopte de nouvelles postures, les créations deviennent multifonctions avec une matière contenant plus de tensions, on peut le remarquer autour de Maturin et Junon notamment . 
The design is improved, with the constant editorial line being the challenge to push back creative and conceptual freedom.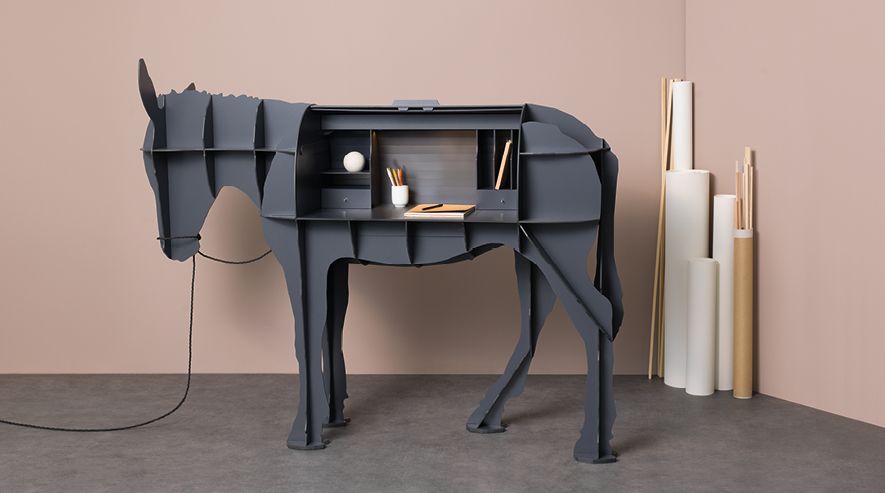 And this idea of pushing the limits leads to unique creations, which sometimes emancipate themselves from slicing.
This is the case for Fausto and the series of crows among others, creations that insert a story into a place.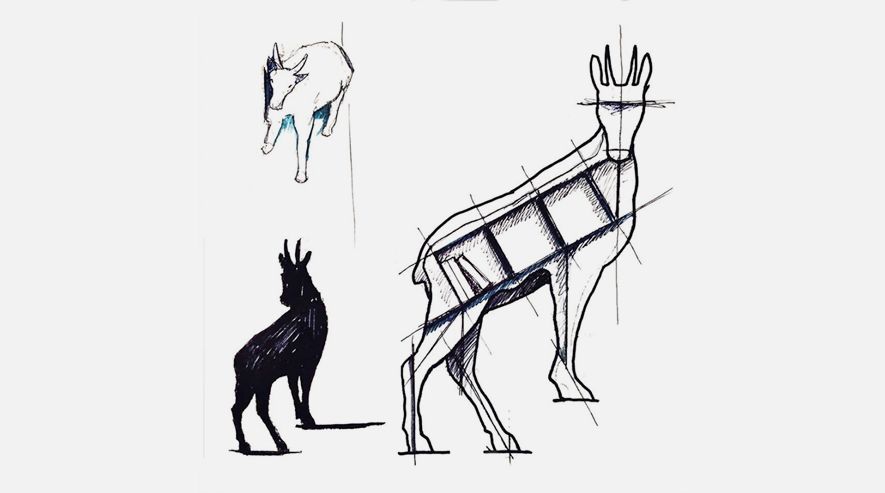 Le dernier né de cette deuxième génération est Horace une véritable prouesse technique. Puisant sa source dans la dextérité des chamois à grimper sur le barrage de Cin Gino, Benoît Convers étonne une fois de plus avec cette audacieuse création. En s'imprégnant de l'émotion émanant de cet animal vertical sur la paroi, le designer explique que ce projet était « l'occasion de faire un animal surplombant le reste. ». 
With La Voix d'Horace wall shelves as a trace of its passage, this exceptional climber, in a harmonious balance, inspires feelings and sensations. 
With 22 members, the ibride mobilier de compagnie dresses, inhabits and makes iconic the places in which it evolves. These souls, bearers of emotions, cannot leave indifferent both in their form and in their substance. 

Writer : Salomé Laurent