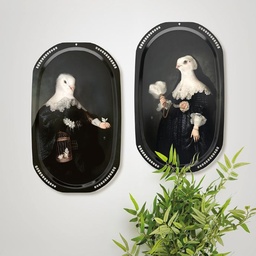 Trays size L | Soolmans Trays size L | Soolmans
Mural tray - High Pressure Laminate
Made in France - H.S.392410

1
---
The new ibride duo of trays celebrates the union of Marten and Oopjen Soolmans with the intention to re-enacts the scene of their singular nuptial parade 
A duo inspired by the work of the famous painter Rembrandt.
Marten
With his proud appearance, Marten lets small butterflies like good-luck messengers emerge from a cage with golden tones. 
 
Oopjen
The femininity of Oopjen, a young bride in sumptuous ceremonial dress, is underlined by her fan of white feathers and a rose that assumes her round mother womb.

Large trays to be used to serve the guests, they can then be displayed freely on a wall as a pictorial work, a mythological painting

They have resonated in our memories for so long. The wolf's cruelty when faced with the lamb's innocence, the cunning fox who tricks the crow with flattery, the monkey and the cat who seem to be united in their misdeeds and yet turn out to be veritable false friends...
  These characters with boundless ambitions are inspired by the court of the Palace of Versailles, where, in the shadow of the King, an elegant and refined fauna evolves ...