The project of "La Ruche" (the Beehive) arose from the meeting in September 2017 between ibride and a company from Besançon which specializes in the organization of events.
The request made by the company was for ibride to design a co-working table, adaptable for all kinds of needs — ranging from individual work spaces to collective areas, capable of accommodating lectures for up to a hundred people. This table, which would need to be moved about frequently, had to be easy to store away, for functional reasons, without losing its own particular identity. Designed by Benoît Convers, it is the result of work of a great complexity, demanding subtlety, specificity and user-friendliness.  

«Ce projet a été nourri par l'appartenance à la même région, il est issu d'inspirations similaires» 

Benoît Convers, designer ibride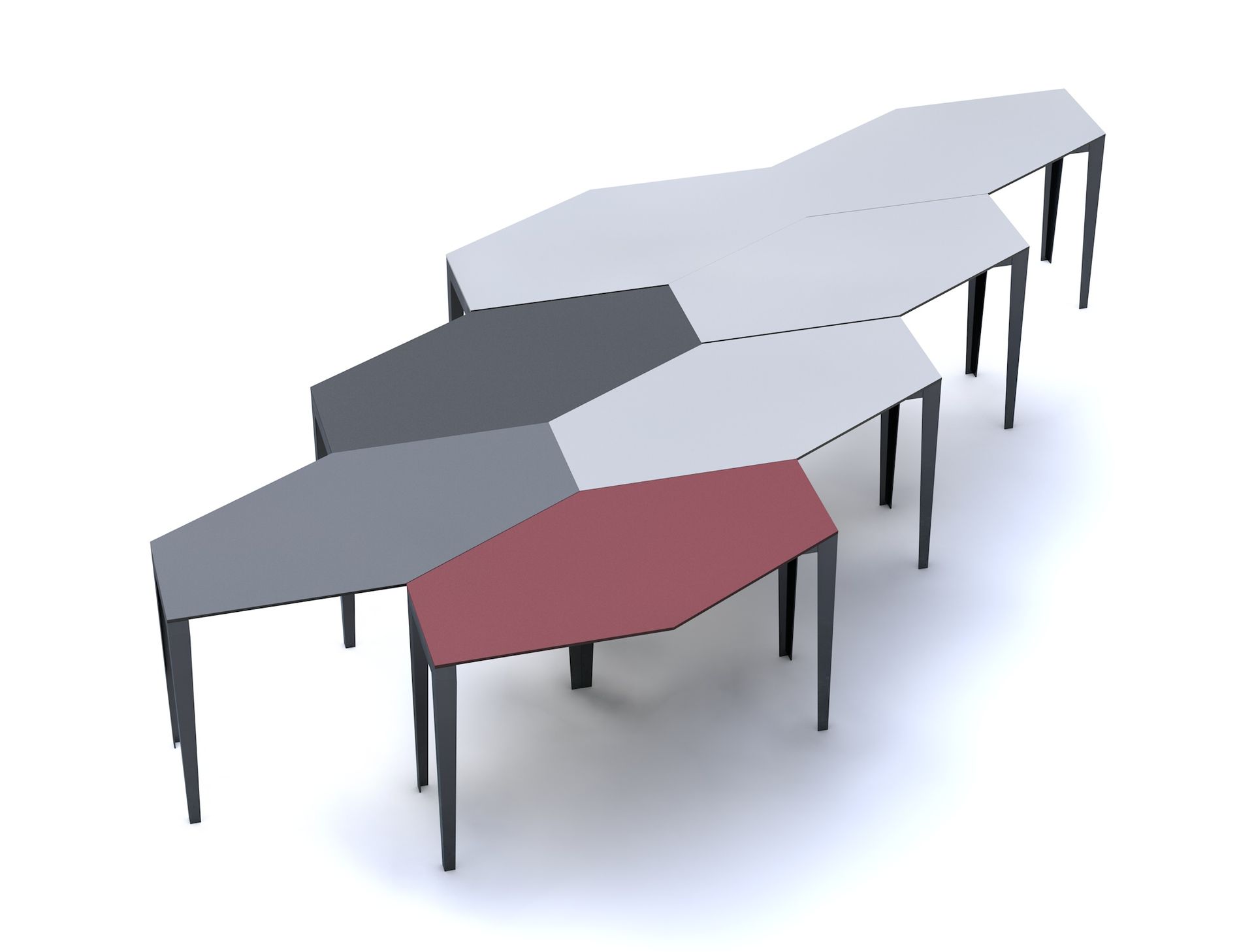 the inspiration


By designing hexagonal tables and managing to combine them in a relevant fashion, Benoît Convers gave them their own particular identity. Once the tables are grouped together, intriguing shapes emerge, each one bearing the mark of nature, each one giving an impression of outdoors.

The client wished to create a space close to nature and therefore used as its main inspiration the valley of the Loue, a river which is emblematic of the Burgundy / Franche-Comté region. Taking as its guiding principle the fluidity embodied by the water, the rock or even the moss which covers the banks of this waterway, the aim was to encourage social bonding through the use of the table. 
 It was thus essential for the tables to be, if necessary, joined together and it is in this possibility of combining them at will that the unique nature of the project resides. 
«L'idée est venue sur place, pendant le premier échange avec la cliente.» 

Benoît Convers 
The engraving


On the table top, Benoît Convers sought to strengthen the links between users by inserting an engraving which joins the tables together. This engraving, resulting from a unique type of graphical work, offers the possibility of incomparable combinations and truly makes the project one of a kind.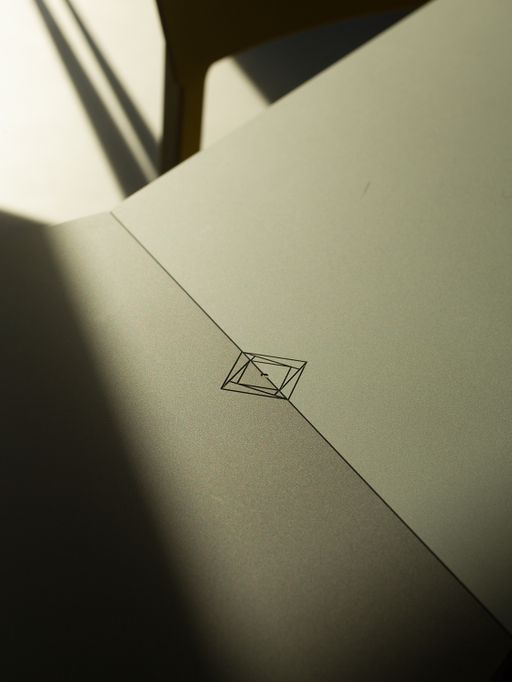 "La Ruche" is thus represented both by the flow of human beings which is characteristic of the place and by the visual impression (esthetic aspect) of the total of 25 tables which, when viewed from above, take on the shape of honeycomb. All requests for projects involving ibride are inspired by a strong, deeply-rooted cultural atmosphere or emerge from a milieu which is close to nature. In addition to these values which directly mirror the universe of ibride, new lines of creation are being developed. Driven by the desire for close relations and confidence, ibride knows how to adapt and to be open to other forms of inspiration and methods of fabrication.

« Les clients nous amènent à bouger les lignes » 
Carine Jannin, éditrice ibride
"La Ruche" project led ibride to use a new material and to re-invent itself. Using a table top in Fenix, an innovative material on which scratches can be removed  up to 150 times, ibride was able to develop its know-how by using new production processes. 

As ibride constantly wishes to involve local craftsmen in the creation of each of its products, the table was designed in both the ibride workshop and by a network of local sub-contractors.  

Salomé Laurent